Love Your Balls
Like the big blue letters say, you gotta love your balls. Nearly 10,000 men will be diagnosed with testicular cancer each year. Treatment is usually successful, and the survival rate is high. Our goal is to keep it that way. So, we created Whack Out CancerTM. A portion of every box of BluBall® golf balls sold will be donated to raise testicular cancer awareness and education. Look, no one has to tell you to touch your balls, we just want to make sure you do it more often.
Early detection is key. If found and treated early, testicular cancer is up to 99% curable.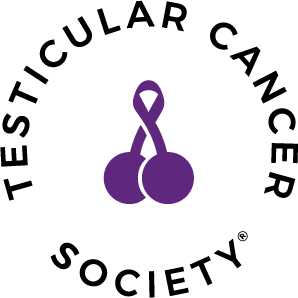 LET'S WHACK OUT CANCERTM TOGETHER
Remember the donations we mentioned earlier? Well they're going to these guys! The Testicular Cancer Society exists for one reason: to save lives. We dig that, and we're happy to partner with them to help Whack Out CancerTM.
The Testicular Cancer Society® is a registered 501(c) (3) non-profit organization dedicated to raising awareness and education about the most common form of cancer in men aged 15 to 35. They provide support for fighters, survivors, and caregivers. The Testicular Cancer Society® has received the GuideStar Platinum Seal of Transparency.
For more information on how you can help spread awareness, visit TesticularCancerSociety.org
THE GREAT BALL ROOM
We partnered with different artists to make self-exam education a little more interesting. Click a strip and learn how to juggle your junk. You can also find our little strips inside the top lid of any of our golf ball boxes. We're not saying one day they might be valuable collectibles, but, one day they might be valuable collectibles.
Click each comic to enlarge